Wind howls as ball falls,
to the ground through frozen hands,
Sunaga not pleased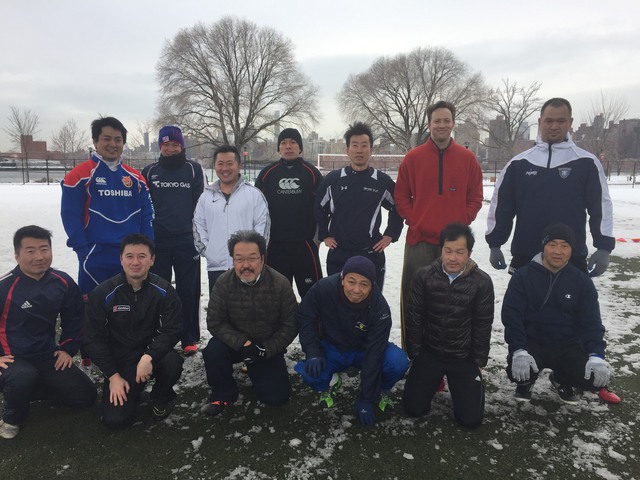 Fourteen brave souls showed up to a partially snow covered field on Randall's Island last Satudray morning. While temperatures were low, spirits were high as the team continued to prepare for its first game of the season against North Jersey RFC. Most of the participants dressed appropriately and were eager to knock off some rust after having the previous week off from the Captain's harsh commands.
Taking advantage of the swirling winds, Captain Sunaga began the practice with a kicking and passing drill. Soon balls were tumbling all over the frozen tundra and passes fluttered in the frigid air. We can only hope that North Jersey RFC kicks high and often!
The meager attempts at catching a knuckling ball were followed by a lively, yet condensed, touch rugby exhibition. A small patch of artificial turf was without snow, protected by the warm embrace of the RFK bridge. On this small patch, all 14 of our ruggers attempted to hone their passing and catching skills, while running straight lines. The result was something that looked more similar to a Premiership final than the flowing rugby of the vastly superior Super Rugby competition.
Touch rugby was then followed by the backs and forwards splitting up to work on specific skills, though we can only hope that the forward pack will have more than five next weekend. Otherwise the scrum may be a bit of a problem. Mercilessly, Captain Yuta called the practice short by about thirty minutes. However, a number of players insisted on staying late to work on tackling form. These people are crazy and should be shunned and ignored.
Despite the cold temperatures, there were no major injuries (other than to the self esteem of those in attendance). With the temperature forecast to be well in the 60s next weekend, we hope to have a strong turn out for the first official hit out of the season. Afterwards we will drink and Drew will try to get people to go to the Australian to watch Super Rugby replays.
As no one else was brave/stupid enough to be out on Randall's Island, we were forced to ask a passing goose to take the final photo.
Attendees: Suganuma, Tomozawa, Hashimoto, Sunaga, Matsuo, Yamagata, Yamada, Murakami, Oki, Shimomura, Haga, Matsunaga, Iijima, Drew
【記事番:Drew】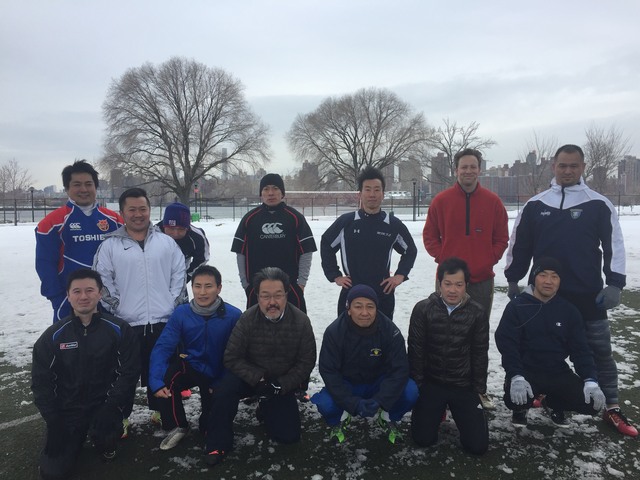 ニューヨークオールジャパンラグビークラブでは新入部員を募集しております。nyajrfc@gmail.com まで連絡ください。日本語でも英語でも構いません。プレイヤー、マネージャー、飲み会要員も大歓迎です!ラグビー経験は問いません(初心者の方もたくさんいます)。ご連絡をお待ちしています!